Description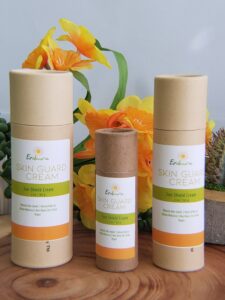 Organic Ingredients:
Rosa Hydrosol & Raw Beeswax/Candelilla wax. Butters: Cupuacu butter,  Mango butter, &  Shea butter. Oils: Wheat germ, Emu, Carrot seed, Pomegranate seed,  Argan, Hazelnut, Apple seed & Mustard seed. Vegetable Glycerin, Aloe Vera.  Essential Oils: Carrot seed, Basil, Lemongrass, Lavender. Goji Berry extract,  Non-Nano Zinc Oxide powder, Vitamin E, Vitamin B5, Propylene Glycol, Steric Acid, Cetyl Alcohol, Isopropyl Myristate, Optiphen, and Xanthan Gum.
The SKIN GUARD CREAM is a Paraben free, and harmful or toxic chemicals ingredients free product. It's an environmental safe product. 100% natural.
Epidauria products are natural, hand-crafted, minimally processed in Florida and made in small batches.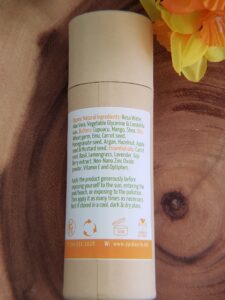 Application:
Apply the product generously before exposing yourself to the sun, entering the pool/beach, or exposing to the pollution. Then apply it as many times as necessary. It is advisable to reapply the product every 2 hours or when it is observed that the water is not repelled -no drops of water are observed on the skin- by the product.
All About Non-Nano Zinc Oxide Safety Checks
Using Non-Nano Zinc Oxide  is important, just make sure to check that you are using the right type of skin protection. Learn about  Non-Nano Zinc Oxide safety and the natural oils that are used in alternative sun shield protection.
Disclaimer:
This product is not a sunscreen nor a sunblock but rather a skin protecting cream with Zinc Oxide; one of only 18 or so active ingredients currently approved by the FDA for use in sunscreens. This cream has no SPF factor as it has not been tested in a certified lab but rather at the beach.
http://www.accessdata.fda.gov/scripts/cdrh/cfdocs/cfcfr/cfrsearch.cfm?fr=352.10
This product has not been evaluated by the FDA – Food and Drug Administration, and is not intended to treat, diagnose, cure or prevent any disease. It is not intended to represent or replace professional medical advice.
Care Instructions:
In cold weather, product may be a firmer consistency; before application, please warm the amount of product to be used in your hand. In hot weather, the ingredients have a naturally low melting point and may need to "firm up" by refrigerating the salve for 15 minutes prior to use.
Skin Sensitivities and Allergens:
We are not responsible for adverse reactions to product. It is the customer's responsibility to test for allergies or sensitivities prior to use. We recommend to spot test 24-hours prior to application as follow: Apply a small amount of product covering 1/2 to 1 inch of the inner forearm. After 24 hours if no reaction has occurred, proceed! If appear any redness, irritation or other reactions, please do not use the product.