Description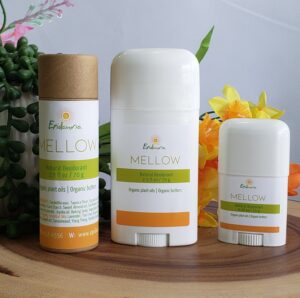 Pure and Natural Ingredients:
Organic Beeswax or Organic Candelilla wax, Organic Shea Butter, Organic Cocoa Butter, Organic Aloe Vera, Organic oils: Almond , Sunflower, Coconut, and Jojoba. Tapioca flour, Arrowroot powder, Cornstarch, and Baking Soda. Vegetable Glycerin,  Vitamin E. Essential oils: Lavender and Rosemary for odor-banish, Tea Tree for antibacterial and antifungal purposes, Frankincense, Grapefruit,  Sandalwood, Ylang Ylang, Vanilla and Geranium for a fragrance.
Disclaimer:
This product has not been evaluated by the FDA – Food and Drug Administration, and is not intended to treat, diagnose, cure or prevent any disease. It is not intended to represent or replace professional medical advice.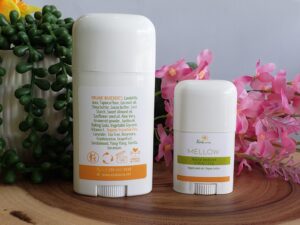 Care Instructions:
Store and keep in a cool place. In cold weather, product may be a firmer consistency; before application, please warm the product. In hot weather, the ingredients have a naturally low melting point and may need to "firm up" by refrigerating the deodorant for 15 minutes prior to use.
Skin Sensitivities and Allergens:
We are not responsible for adverse reactions to product. It is the customer's responsibility to test for allergies or sensitivities prior to use. We recommend to spot test 24-hours prior to application as follow: Apply a small amount of product covering 1/2 to 1 inch of the inner forearm. After 24 hours if no reaction has occurred, proceed! If appear any redness, irritation or other reactions, please do not use the product.