Description
Ingredients: 
This product is handmade using top quality organic carrier oils and pure therapeutic essential oils:
Organic Sunflower oil, Organic Vegetable Glycerin, Organic Patchouli essential oil, Organic Vetiver essential oil, Organic Ylang Ylang essential oil, Organic Clary Sage essential oil and Organic Rose Absolute essential oil.
Epidauria product are natural, hand-crafted, minimally processed in Florida and made in small batches.
Application:
Apply oil in the top of ears, below chin line, inside elbows, behind knees and ankles. Or apply desired amount of oil to skin with a gentle and circular massage.
Avoid contact with eyes, nasal passages. and irritated skin. Not for use on open wounds. For external use only. Discontinue use if signs of irritation or rash appear. Keep out of the reach of children.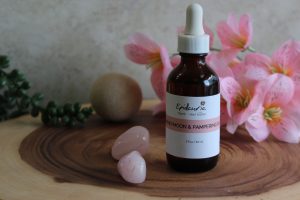 Disclaimer:
This product has not been evaluated by the FDA – Food and Drug Administration, and is not intended to treat, diagnose, cure or prevent any disease. It is not intended to represent or replace professional medical advice.
Skin Sensitivities and Allergens:
We are not responsible for adverse reactions to product. It is the customer's responsibility to test for allergies or sensitivities prior to use. We recommend to spot test 24-hours prior to application as follow: Apply a small amount of product covering 1/2 to 1 inch of the inner forearm. After 24 hours if no reaction has occurred, proceed! If appear any redness, irritation or other reactions, please do not use the product.