Description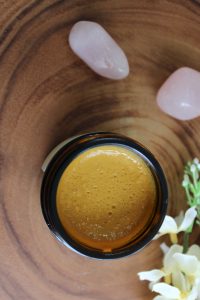 Ingredients:
Made with pure and organic plant oils, natural products, and organic botanical extracts.
Hibiscus infused water, organic Argan butter, EWax, organic Mango butter and organic Aloe Vera Butter. Organic Wheat germ oil, organic Sea Buckthorn oil, organic Prickly seed oil, organic Hemp oil, organic Borage oil, organic Rosehip oil and organic Calendula oil. Organic Bearberry leaf extract, organic Goji berry extract and organic Licorice extract. Ascorbic Acid (Vitamin C), Baking soda, Optiphen. Organic Lavender, Tea Tree and German Chamomile essential oils
Epidauria products are natural, hand-crafted, minimally processed in Florida and made in small batches.  No Harsh Chemicals and Non-Toxic; Paraben free, no artificial fragrances, synthetic preservatives free, cruelty free.
Application:
Avoid the eyes area. Apply a thin layer over cleaned face, neck or desirable area daily with a gentle finger tips massage so that it penetrates in the skin. We recommend a consistent daily use of this salve.
This product may make the skin more sensitive to the sun. Because of that, we recommend apply it at night time or with adequate sunscreen protection in the daylight.
Remember, protecting the skin or avoiding sun exposure is the best preventive measure for uneven skin.
Disclaimer:
This product has not been evaluated by the FDA and is not intended to treat, diagnose, cure or prevent any disease. It is not intended to represent or replace professional medical advice.
Care Instructions:
In cold weather, product may be a firmer consistency; before application, please warm the amount of product to be used in your hand. In hot weather, the ingredients have a naturally low melting point and may need to "firm up" by refrigerating the salve for 15 minutes prior to use.
Skin Sensitivities and Allergens:
We are not responsible for adverse reactions to product. It is the customer's responsibility to test for allergies or sensitivities prior to use. We recommend to spot test 24-hours prior to application as follow: Apply a small amount of product covering 1/2 to 1 inch of the inner forearm. After 24 hours if no reaction has occurred, proceed! If appear any redness, irritation or other reactions, please do not use the product.