Description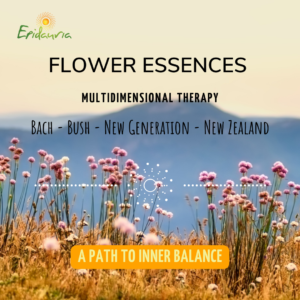 The Flower Essence Remedies -1st dilution- used to prepare the customized remedy -a 2nd dilution-are:
Bach Flower Remedies – 38 essences
Bush – Australian Bush Flower Essences – 69 essences
New Generation – Andreas Korte System – 60 essences
New Zealand Flower Essences – Body system – 13 essences
Ingredients: 
Bach Flower Remedies and/or Australian Bush Flower Essences and/or New Generation Flower Essences, Spring water, brandy.
Preparation base:
The preparation base does not change the effectiveness of the essences, only the flavor and validity.
100% Brandy: valid for 1 and a half years.
100% Spring water: valid for 10 days
25% Brandy + 75% spring water: valid for 3 months
Directions:
Shake well before use.
Bush – Australian Bush Flowers: We recommend taking 7 drops, 2 times a day; put 7 drops under the tongue at morning and sunset.
Bach, New Generation and New Zealand Flowers Essences: We recommend taking 4 drops, 4 times a day; put drops under the tongue 4 times per day.
Please note that the effect of the essence does not vary depending on the number of drops, the effect depends on how often the remedy is ingested. Depending on the intensity of the emotional state, it is advisable to take flower essences as follows:
1.) Chronic emotional states: 4 drops 4 times a day for a minimum of 3 months
2.) Acute Cases: 4 drops every 2 hours for a few days, progressively spacing the intakes until they are suspended when the condition improves and the particular indication ceases.
3.) Hyperacute cases and emergency circumstances: The doses can be repeated every half hour or more frequently, always spacing the doses according to improvement.
Conservation:
Flower essences are manifested through vibrations; in other words, each one of them has a defined quantum structure that is expressed in a specific pattern of vibration. The vibrational field of this structure is subtle, it is a field of energy and information. The vibrational field can be altered by radiation and strong electromagnetic fields, as well as by extreme temperatures (below 39°F (4°C) and above 140°F (60°C). Store in the shade, in a place fresh, in its original container and away from computers, microwave ovens, refrigerators, televisions and X-rays that could alter its stability and effectiveness; when traveling by plane wrap the bottle in aluminum foil. Avoid leaving the bottle uncovered for a long time to prevent evaporation. Avoid contact the dropper with saliva.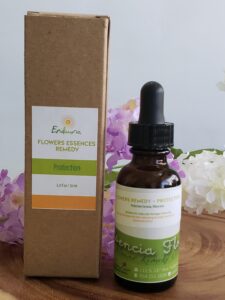 Disclaimer:
This product has not been evaluated by the FDA – Food and Drug Administration, and is not intended to treat, diagnose, cure or prevent any disease. It is not intended to represent or replace professional medical advice.
Please consult your physician or midwife prior using these natural product if you are pregnant or nursing. You should not use any herbal treatments, products, or self healing plants if you are pregnant or breastfeeding, or even if you are in good health, without first contacting your doctor. Epidauria is not responsible for any use, misuse or abuse of any herbal treatments or herbs you use; nor any resulting sickness. Please if you wish to try our oils or any other healing remedies, educate yourself before use of any herbal treatments.