Our Massage Services are performed by licensed massage therapists. Our goal is to relax and indulge you with a Therapeutic Massage or Relaxing Massage experience.
Therapeutic Massage Services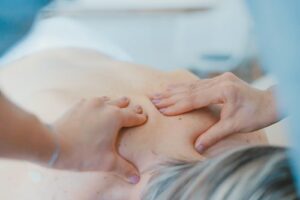 Therapeutic massage combines massage for pain relief with deep relaxation.
Relaxing Massage Services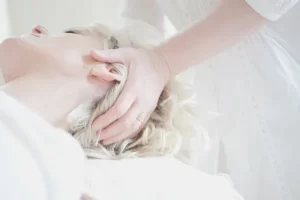 Relax, Relax, and Relax more with our indulging  Swedish, Deep Tissue, or Hot Stone Massage Services.
Customized Massage 
Lie down for our 60 or 90 minutes customized massage to release muscle tension, and stress. We combine multiple modalities of therapeutic massages according to individual needs.  60 min for $95 – 90 min for $140.
Focused Manipulative Therapy 
This massage focuses on a specific area of the body with the aim of relieving the condition that is causing discomfort and pain. Includes stretching and movements of the joint involved in the injury, tension or pain. 60 min for $90.
Chinese Acupressure Massage
Chinese Acupressure is a modality of massage therapy based on the theories of Traditional Chinese Medicine that uses finger pressure to mobilize chi – or life force energy – at specific spot on the body to help restore the body's balance. It's a deeply relaxing experience and can help relieving stress, anxiety, and tension. 60 min adult session for $95.
Cupping Therapy Massage 
Suffering with acute or chronic superficial muscle pain and aches? This massage with moving cups is designed to stimulate and activate circulation through the fascia and superficial layers between the skin and muscles. Great for sore and bruised muscles. 30 min for $50, 60 min for $95. 
Healing Energy Therapy
This gentle style of massage uses slow movements and light pressure to stimulate the flow of energy and re-valance the body. 60 min for $100.
Aromatherapy Massage 
This gentle and soothing style of massage is a combination of Swedish massage with the use of essential oils. Essential oils penetrate the skin, and stimulate the olfactory system, giving you a sense of relaxation and well being. 60 min for $95.
Therapeutic-Orthopedic massage
Suffering with chronic, or sudden (acute) irritating pain? Therapeutic-Orthopedic massage is a multidisciplinary approach that focuses on relieving pain, dysfunctions and injuries in the tissue and muscles around the joints of the body. 60 min for $95.
Lymphatic & Detox Massage
This is a delicate form of massage that combines different modalities, and a blend of essential oils that stimulate the body's lymphatic system to drain toxins, boost the immune system, and reduce swelling and inflammation.  75 min for $115.
Slimming Cupping Massage 
The Slimming massage with cups is a stimulating massage that is designed to target areas of localized fat and cellulite. 30 min for $50, 60 min for $100
Trigger Point Massage 
Trigger point massage focuses on releasing trigger points, which are small, tight knots that develop in muscles that may even cause pain in other areas of the body. Trigger point massage involves a more targeted approach focused directly on releasing painful trigger points, so the sessions are meant to be more therapeutic and results-oriented than luxurious or relaxing. 60 min for $95.
Swedish – Stress Relief Massage 
Our stress-relieving, light pressure Swedish technique massage  promote circulation and a sense of well-being. This gentle style of massage is designed to improve circulation, range of motion, relieve minor muscle pain, and promote overall relaxation. This massage is not designed for working the deeper muscles of the body. 60 min for $85.
Deep Tissue Massage
Deep tissue massage is geared to relieve chronic pain, stress, muscle tightness and stiffness from daily use and overuse. the focus of this modality is on releasing the chronic muscle tension on the deepest layers of muscle tissue, tendons, and fascia. 60 min for $95.
 Prenatal Massage
Prenatal massage can help reduce anxiety, decrease symptoms of depression, relieve muscle aches and joint pains, and improve labor outcomes and newborn health. 60 min for $90, 90 min for $140
Rehabilitation Massage Therapy 
Focuses on providing treatment to specific areas of the body. its a customized massage to treat specific conditions ( chronic/acute injury or dysfunction.) The objective of this type of massage is to facilitate the body's recovery. We use a variety of techniques (Trigger Point, Deep Tissue, Hydrotherapy, Cupping and more) to accelerate the recovery process. 60 min for $95.

Newborn – Infant – Kids Massage 
It's a slow gentle massage focused on stimulating hands, feet, back and belly to aid in your baby's/kid digestion, encourage relaxation, sleep and more. 30 min for $50, 45 min for $75 and, 60 min for $90.
Elderly Massage 70+ 
60 minutes Elderly Massage is designed to meet the needs of the elderly. It is especially beneficial to maintain and improve health as we get older. It has also proven to be a great help in recovery after surgeries, accidents or illnesses. 60 min for $90.
Foot & Hands Scrub & Therapy
Consist of 15 or 30 minutes therapeutic treatment.  Feet soak with bath salts, exfoliation with salt scrubs, and massage with essential oils. 15 min for $25, and 30 min for $50.
Hot Stones Massage
Melt away tension, ease chronic muscle stiffness, and increase metabolism with this relaxing Hot stones massage. Hot stones massage is designed to promote deeper muscle relaxation, decrease muscle spasms, increase flexibility in joints by aiding in easier mobility and movement as well as increase circulation. 60 min for $100, and 90 min for $140.
MASSAGE ADD-ONS
ADD ON 15 MINUTES OF FOOT & HAND SCRUB THERAPY $25.00
ADD ON 15 MORE MINUTES OF MASSAGE $20.00
ADD ON AROMATHERAPY OIL (5 ml) $25.00
ADD ON 15 MINUTES OF STRETCHING $30.00